GlossyBox is another subscription I've kept up with since having my baby, mostly because I've enjoyed the products and I've been discovering new favorites beauty items I would have never known about otherwise.
GlossyBox costs $21 a month and contains primarily cosmetics, skincare and haircare products. Also, many of the items are full-sized, and each box may contain a couple of deluxe samples. I really appreciate getting larger sized items that I can use for longer, which is why I prefer this service over Birchbox.
I'll apologize in now for a lack of great pictures in this month's sub box postings. My camera was having difficulty with lighting and the best photos were those that contained only the products in their original packages. I'm going to have to work on improving my equipment very soon!
Here was the box I received in May...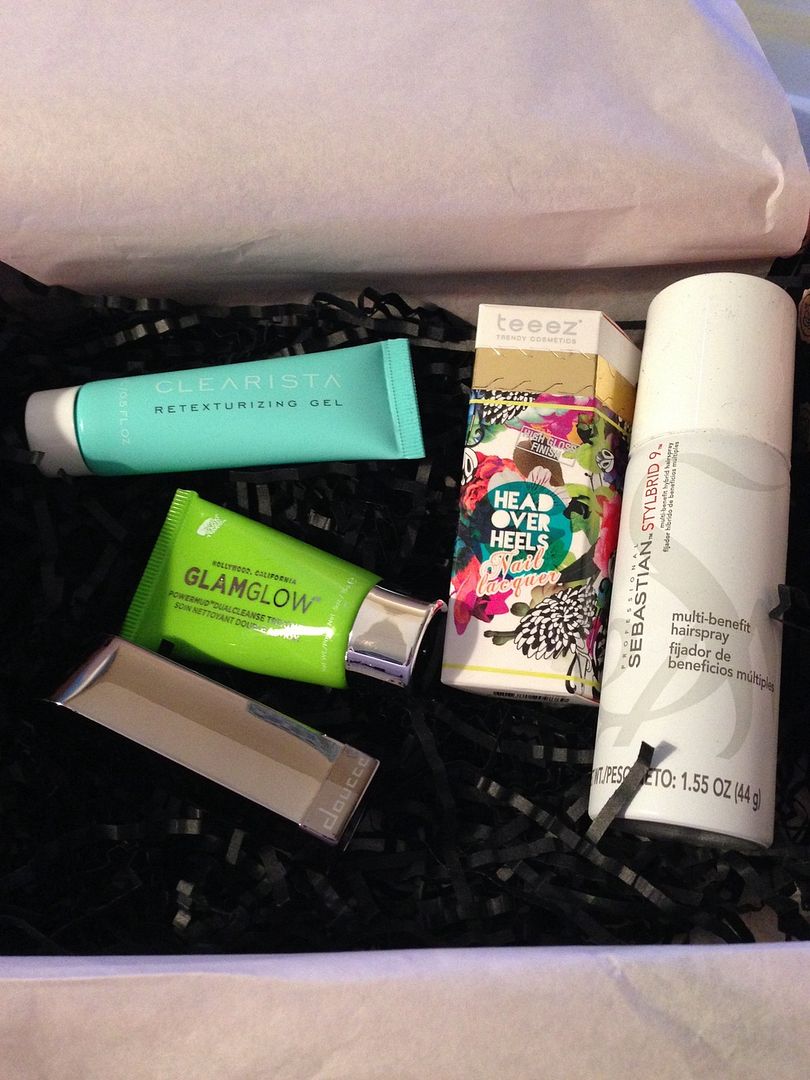 Here is a breakdown of the box's contents...
Clearista Retexturizing Gel - $10
GlamGlow Powermud - $19
Teeez Head Over Heels Nail Lacquer in Clear - $14
Doucee Mineral Matt Lipstick in shade 907 (Mauve) - $20
Sebastian Stylbrid Multi-Benefit Hairspray - $5
Total value of this month's box: $68
Overall, I liked the products in this box. I've never met a GlamGlow product I didn't love, so that was a great addition, and the Sebastian hairspray was very nice, too. It wasn't sticky, had a light hold and made my hair look healthy and shiny. Not bad at all! I haven't tried the Clearista or Teeez nail polish yet, but hopefully they work well. The lipstick color is nearly the same as my natural lip color, and it's matte, so it was a bit dry and took 4 passes on each my upper and lower lips to be able to see the color on me. However, once I applied a little bit of non-glossy lip balm over it, the color looked much better.
That's it for this month's boxes. I'm truly hoping that the June boxes blow me away! I find that every third box usually wow's me, so I'm keeping my fingers crossed!