Newsflash: I still get a couple of subscription boxes.
Shocker, I know!
I always said I'd stop getting them after I had my baby, but much like the Starbucks Passion Tea Lemonade, I couldn't quit them. At least not all of them.
One of my perennial favorites has been the Popsugar Must Have box. It's a monthly subscription box that costs $39.95 per month (plus tax) and contains a variety of items from beauty, accessories, food/snacks, home and lifestyle items. I always love opening each month's box to see what goodies will be packed inside.
Here were the lovely products in this month's box...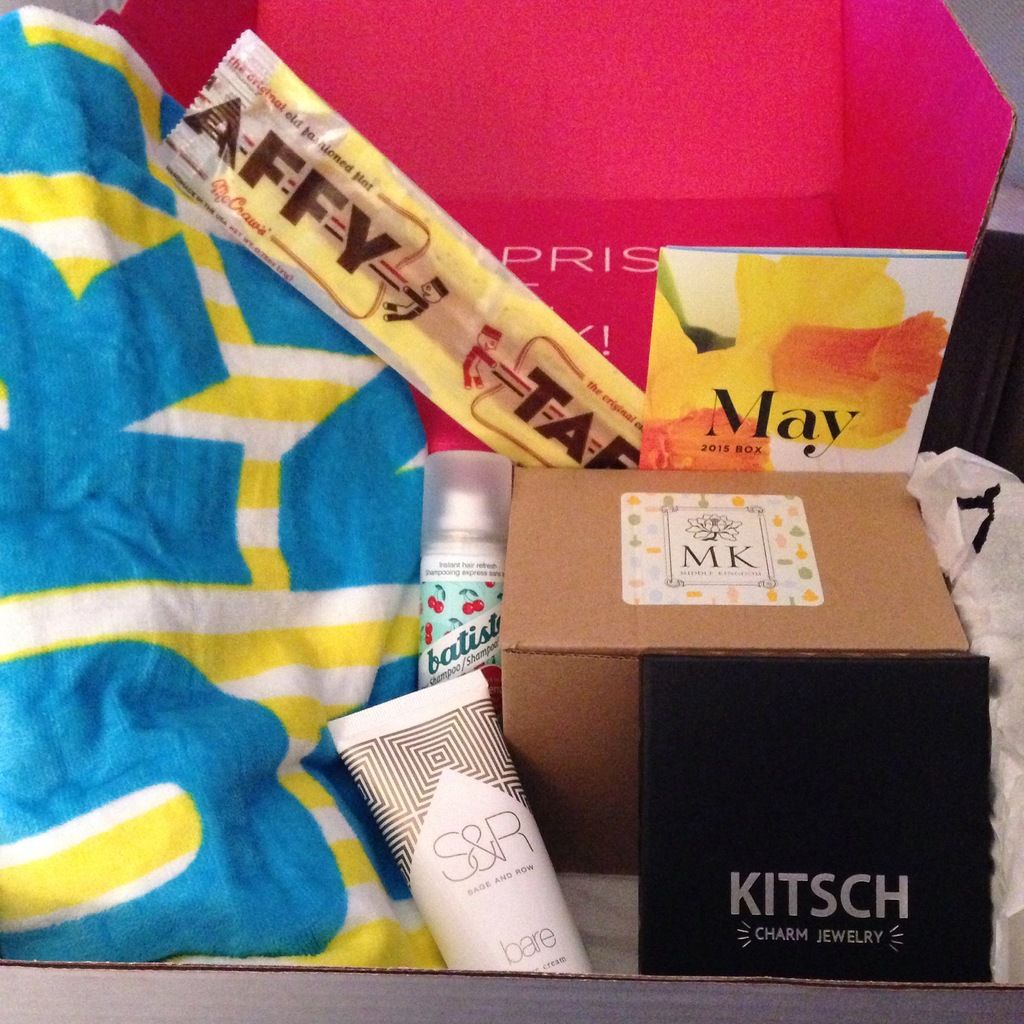 In this box, there was a good variety of items, some of which were were great for any time of year, while others were distinctly perfect for summer.
Sisters of Los Angeles Surf Sand Love Beach Towel - $40
Middle Kingdom Mini Plum Vase in Coral Red - $20
Kitsch Tri'd & True Y-Shaped Necklace - $32
Batiste Travel Sized Dry Shampoo in Cherry Scent $4
Sage & Row Bare Shave Cream - $17
Hammond's Candies Taffy in Banana - $1
Total value of this box: $114
As you can see, the beach towel and shave cream were definitely Summer themed, but the rest of the items could have been in any month's box. This box wasn't quite as well themed as most tend to be, but I enjoyed the items nonetheless. I plan to gift the Kitsch necklace in the future since it's a very delicate necklace and I don't know if I would wear it often. The bud vase is also beautiful and simple, but the coral red just doesn't match my house decor at all,so that may also be gifted in the future.
I absolutely adored the beach towel! As a Floridian, you can never, ever have to many beach towels or products with SPF. I also LOVED the shave cream, but I'd have a hard time spending $17 on a tube that small in the future. Additionally, I wish that they had made the Batiste dry shampoo full-sized rather than travel-sized. The full-sized product wouldn't have cost much more and would have made the box feel more valuable, in my opinion.

While this was not my favorite Popsugar Must Have box ever, it did have some very nice items that I will enjoy using this summer. Give the Popsugar Must Have box at try! You really can't go wrong, and the products are always wonderful and surprising.